History of the Corvette Logo
---
The Chevy Corvette has remained one of the most iconic American performance models on the Pace streets for decades. First rolling off the production line in the early 1950s, the C1 Corvette ushered in a new era of automotive excellence. As the years have passed, the Corvette has seen exciting upgrades and innovations. Even the Corvette logo has changed throughout time. However, the dual-crossed flags of the Corvette logo have remained consistent, donning this vehicle from the very beginning. Let's dig a little deeper into the Corvette symbol meaning and more below!
Corvette Symbol Meaning
When the original emblem designers were searching for sources of inspiration for what would become the iconic Corvette emblem, they naturally looked to the founder of Chevy. They dug into the family of Louis Chevrolet and turned to the French roots of his family name. This is where the exemplary fleur-de-lis (flower of the lily) emblem appeared.
This French symbol indicates peace and purity and has accompanied the Chevy bowtie opposite of the checkered race flag since the C1. The Corvette symbol meaning embraces the race-track inspired specs of this model, the family history of the founder, and the emblem of this iconic brand that is known the world over.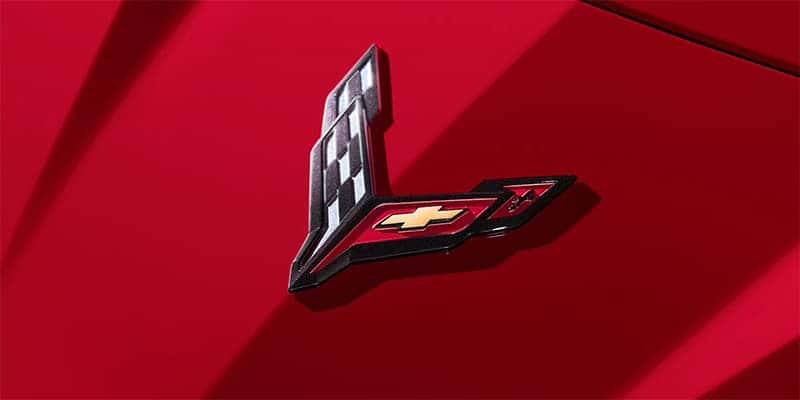 Evolution of the Corvette Symbol
Now that we know a bit more about the Corvette symbol meaning, let's take a look at how the emblem has gained its current form. From its inception, the Corvette symbol has featured two crossing staffs with waving flags on each end. Originally, the Corvette logo was designed by Robert Bartholomew to include a checkered racing flag on one side and an American flag on the other. However, due to restrictions on usage of the American flag on commercial products, Chevy scrapped the design in favor of one that featured the Chevy bowtie emblem and the fleur-de-lis mentioned above.
Each generation of the Chevy Corvette has been adorned with a fresh rendition of the classic logo. Despite updates, the iconic elements of the Corvette symbol remain intact to this very day. Take a look at the lifespan of each Corvette logo below:
| | | |
| --- | --- | --- |
| 1953-1962 | 1963-1967 | 1968-1982 |
| | | |
| --- | --- | --- |
| 1983-1996 | 1997-2004 | 2005-2013 |
| | |
| --- | --- |
| 2014-2018 | 2019-present |
Discover Your Dream Ride at Allen Turner Chevrolet!
While many things seem to change rapidly these days, the power and prestige of the Chevrolet Corvette remain. If you've seen this energetic model race through the Fort Walton Beach streets, then you've likely been dreaming of piloting your own model ever since. In fact, Allen Turner Chevrolet is now a proud sponsor of the Playground Corvette Club! If you'd like to admire the Corvette symbol in your own Niceville driveway, contact us today. Our finance team can help you learn all about the various renditions of the Chevy Corvette and guide you to a great deal. Shop with us in Crestview today!
More From Allen Turner Chevrolet
Few things are more symbolic of the American way of life than pickup trucks. Originating in the early 20th century as a way for Chevrolet employees to move heavy parts around the factory, the pickup truck's incredible versatility and utility turned it into a national icon. Over 100 years have passed since then, and Chevy…

Truck-based SUVs are exceptionally versatile vehicles. Their three rows of seats allow up to eight passengers, and being built on a truck platform gives them excellent towing capacity and off-road performance. While older models used to compromise on ride comfort and maneuverability, newer ones are more comfortable and easier to drive than ever. The 2023 Chevrolet…

If you're a driver in Crestview, Florida, looking for, practicality, space and comfort, you may be looking at two SUV options in the market: The 2024 Chevrolet Equinox and the 2024 Honda CR-V. The 2024 Chevrolet Equinox gets a facelift and comes with impressive upgrades for a comfortable ride and solid handling. With a long and…