All About The New Silverado EV
Many automotive manufacturers are focusing their efforts on hybrid and electric vehicles (EVs) to do their part in combatting the harmful effects of fossil fuels on the environment. Chevrolet is no exception, with a lineup that includes the popular Bolt EV. The Chevy line is set to expand in the near future with the addition of a capable and all-electric pickup truck. Check out what we know so far about the upcoming Silverado EV, slated to arrive sometime in 2024.
A Traditional Take on the Electric Pickup Truck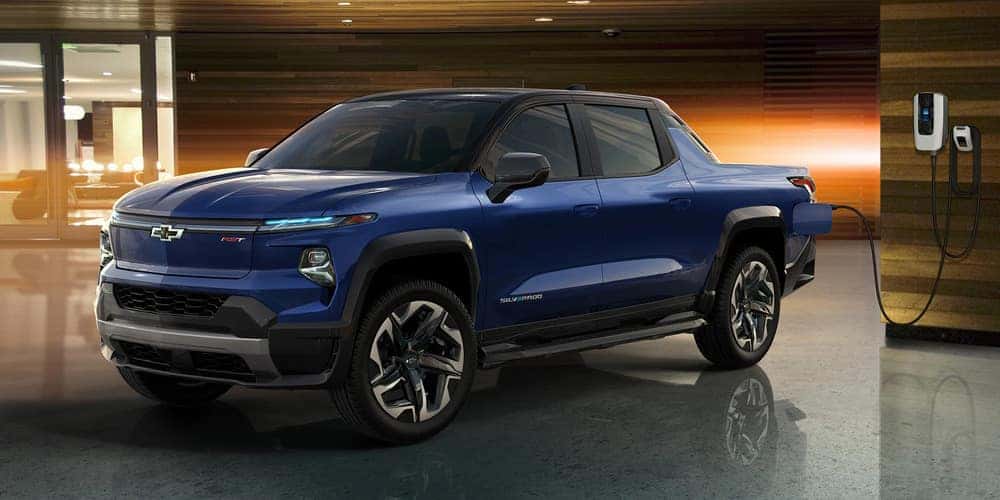 According to Chevrolet, the Silverado EV will build on its traditional Silverado pickup truck. Since this is one of the best-selling models in the automaker's lineup, it makes sense that the electric version would share some of its features and styling elements. However, this model will also share some similarities with the GMC Hummer EV, including parts of its powertrain.
Power and Performance
The Silverado EV gets its power from dual electric motors and GM's novel Ultium battery technology. According to claims from Chevrolet, this innovative technology can create battery packs as large as 200 kWh. The powertrain system works together to put out a combined 510 horsepower and 615 lb-ft of torque on the Work Truck (WT) trim and at least 664 horsepower on the performance-heavy RST. This setup should deliver quick acceleration and plenty of power.
The electric Silverado can also provide power to other EVs or even the devices and systems within your home in the event of an emergency.
Impressive Driving Range
Chevy officials also report that the Silverado EV will be able to travel up to 400 miles on a full charge. This driving range is downright impressive, although it will vary based on whether you're towing or hauling heavy loads. DC fast charging comes standard across the board, and when the truck is on a DC fast-charging plug, it can power up enough to drive 100 miles after just 10 minutes.
Towing and Hauling Capabilities
The first WT Silverado EV released will come with an estimated towing capacity of 8,000 pounds and the ability to carry up to 1,300 pounds of payload. The RST model's towing capacity jumps to 10,000 pounds. If that's still not enough for you, a model that can tow up to 20,000 pounds will eventually join the EV lineup.
The Chevy's Multi-Flex Tailgate provides enhanced convenience when carrying large or bulky items. It offers six distinct functions, allowing you to load and unload the bed with ease. You can also use the pass-through feature to fit items that measure up to 10 feet in length, which far exceeds what you can carry in a traditional pickup truck bed. The primary gate opens three ways — from the key fob, a button on the gate, or a switch within the truck's cabin. The second-tier load stop function prevents larger items from sliding out when you slow down or stop.
Available Trim Levels
When the Silverado EV launches, it will come in three main trim levels: the WT, Trail Boss, and RST. However, Chevy has announced plans to add mid-range trims after the initial launch. From the outside, the truck looks a bit like the Chevy Avalanche, a model that has since been discontinued. It boasts sleek lines and rounded edges, along with a unique bed design with available two-tone exterior paint.
Official specs haven't been released yet, but you can likely expect to see similar features on the EV version of the truck as those offered on the gas-powered model. It is confirmed that the RST trim will include an adaptive air suspension that boosts ride quality and comfort, while a set of 24-inch wheels is optional. You can also probably expect off-road-oriented upgrades on the Trail Boss, such as all-terrain tires, locking differentials, and other adventure-ready elements.
Stylish Cabin With Ample Storage
The truck's design allows you to fold down the rear wall between the cab and bed, which maximizes storage space. Inside the cab, you'll find unique storage elements that allow you to keep all your essential items within easy reach. This truck also features plenty of upscale elements within the cabin, such as a column-mounted stalk rather than a console-mounted shifter for the transmission. This opens up enough space for a large storage bin to be situated between the middle armrest and dashboard up front.
Beneath the hood, you can take advantage of additional storage space since this area isn't crowded with a gas-powered engine or other components. A front trunk further increases what you can store when taking this truck around town.
Standard tech features include an 8-inch digital gauge display paired with an 11-inch touch screen. If you opt for the upgraded RST, your truck's cabin will feature a larger 17-inch touch screen and 11-inch gauge display. Chevy hasn't released details on the infotainment system, but it's expected to include Android Auto and Apple CarPlay smartphone integration, a Wi-Fi hotspot, and satellite radio. Chevy did say that the system will include Google Assistant, Google Play, and Google Maps. The RST model will also include a fixed glass roof and unique black-and-white leather upholstery with red stitching.
Impressive Safety Equipment
Although official details aren't out yet regarding the safety suite that will come standard on the Silverado EV, the truck will likely come with the active driver aids offered on the traditional Silverado. These may include automatic emergency braking with pedestrian detection, a rearview camera, lane-keeping assist, and automatic high beams. Chevy's Super Cruise hands-free driving system on the highway may be available on the top trim as well.
At Allen Turner Chevrolet, we can help you get behind the wheel of this downright impressive electric pickup truck when it becomes available. As mentioned, it's scheduled to release in the 2024 model year, so keep an eye out for additional details and what to expect. Our helpful salespeople can answer questions and help you find the perfect EV for your lifestyle.