Best Beaches To visit On The Emerald Coast
The Emerald Coast is home to some of the most beautiful beaches in Florida. Whether you're interested in hiking along the dunes, reclining on the sand, playing a game of beach volleyball, or trying your hand at Gulf Coast fishing, you'll find the perfect destination for your getaway. Drop in for a day, set up camp for a rugged weekend away, or enjoy the full resort experience along the sparkling turquoise waters. We've rounded up some of the best spots along the Gulf Coast for your next beach adventure.
Henderson Beach State Park
Henderson Beach State Park encompasses a 6,000-foot stretch of soft white sand that reaches from the sparkling ocean to the majestic 30-foot dunes. One of the largest public beaches along the Emerald Coast, this destination offers plenty of space for families to set up chairs and blankets for a day of fun in the sun. You'll also enjoy helpful amenities such as picnic tables, pavilions, BBQ grills, restrooms, outdoor showers, and a playground.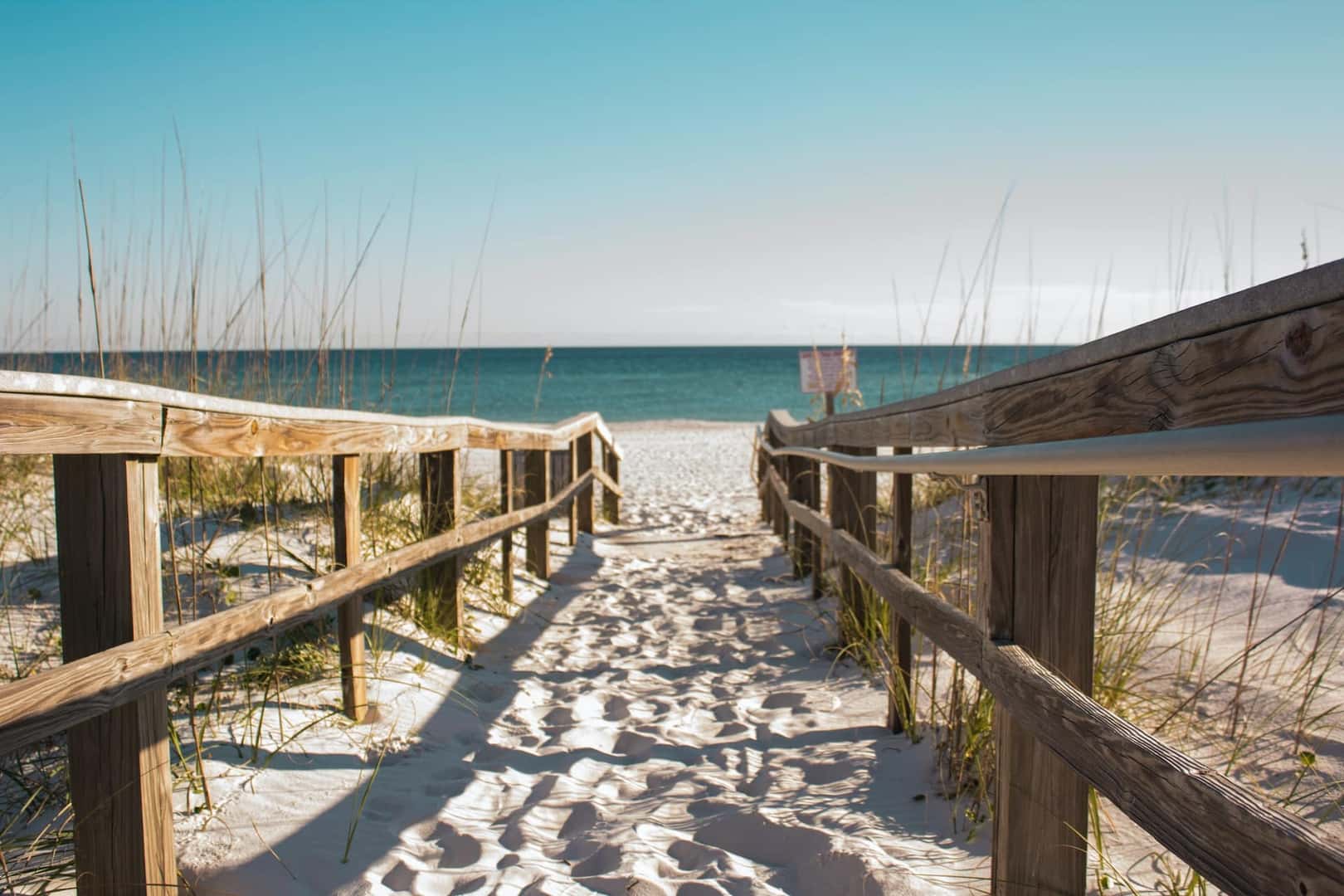 This state park was established for the purpose of protecting this beautiful natural habitat, so you'll find it to be one of the most unspoiled beaches in the area. Coastal scrub continues to thrive within the park, although it's been largely eradicated along other beaches. Henderson Beach State Park features a picturesque nature trail that's perfect for experiencing the full ecosystem of the dunes, which includes sea turtles, gopher tortoises, rabbits, migrating monarch butterflies, shorebirds, wading birds, and more. Enjoy the park with a stay at one of its 60 campsites across the boardwalk.
Location: 1700 Emerald Coast Parkway, Destin, Florida.
Sandestin Golf and Beach Resort
If you're interested in an exclusive beach experience, plan a visit to the Sandestin Golf and Beach Resort. This sprawling resort destination features its own 7-mile beach that's perfect for swimming, sunning, and sandcastle building. If you prefer to take a beachside dip in a more controlled setting, the resort also boasts 19 swimming pools. Sandestin spans 2,400 acres and includes 1,600 accommodations. If this dizzying selection seems difficult to navigate, we recommend Hotel Effie for your Sandestin Golf and Beach Resort stay.
Hotel Effie offers a private shuttle to the beach, where you can enjoy complimentary beach chairs, towels, and bottled water from the resort. You can even book a bonfire on the beach and roast s'mores beside the lapping waves. Pool lovers can snag a seat beside the rooftop pool. This popular lounge area includes poolside games such as cornhole, Connect Four, and chess played on oversized boards, along with food and drink service. All your needs are catered to by the conscientious staff at Hotel Effie.
Location: 9300 Emerald Coast Parkway W. Miramar Beach, Florida.
Newman C. Brackin Wayside Park
You'll find ample parking at Newman C. Brackin Wayside Park. This is one of the best options along the Emerald Coast if you're coming by car. Commonly referred to as Wayside Park, this family-friendly destination on Okaloosa Island has everything you need to keep your kids entertained for the day. You'll find a playground on the sand, volleyball nets, and plenty of pavilions and picnic tables for an al fresco lunch. Lifeguards keep an eye on the waters to ensure safe swimming.
Restrooms and changing rooms are located on-site so you can adjust your attire accordingly throughout the day. Wayside Park is located next to the fishing pier, and you can even drop a line to test the waters for a fresh catch. A Florida fishing license is required, and local fishing regulations apply.
Location: 1450 Miracle Strip Parkway SE, Okaloosa Island, Florida.
Crystal Beach
One of the most beautiful beaches on the Emerald Coast, Crystal Beach is known for its sparkling waters and stunning sunsets. You'll enjoy tranquil turquoise waters, soft white sand, and picturesque surroundings in the form of cozy pastel-hued vacation cottages. Parking is limited to prevent overcrowding at this well-loved spot. You can walk from the nearby Destin Commons and enjoy an afternoon break on the beach between dining and shopping sprees. You'll find quaint boutiques, live entertainment, and outstanding seafood restaurants in this popular hub.
Beach amenities include pavilions, picnic tables, restrooms, and showers. Dolphins frequent the waters off Crystal Beach from late spring to the end of summer, so keep your eyes open for this breathtaking sight.
Location: 2964 Scenic Highway 98, Destin, Florida.
Topsail Hill Preserve State Park
The dramatically rising dunes give Topsail Hill Preserve State Park its name. These sloping white dunes create a stunning ecosystem, with four freshwater dune lakes nestled amid the scrubland and beach. This park features a 3.2-mile coastline along the turquoise shore, as well as 1,477 upland acres that feature pine forests and wetlands. Thirteen imperiled wildlife species call this park home, including the Loggerhead sea turtle, the Choctawhatchee beach mouse, the Southern hognose snake, Wilson's plover, the Black skimmer, and the Gulf Coast solitary bee.
From the daytime parking area, you can take a tram to the beach in Topsail Hill Preserve Park. The park is also accessible by foot or bike via a shared trail. Restrooms are available near the parking lot and by the beach boardwalk at the end of the tram road. A water bottle fountain and shower facilities are located on the beach for your convenience.
If you'd like to stay and experience all the park has to offer, you can camp, glamp, or rent a cabin in the park. Other amenities on the property include a canoe/kayak launch on Campbell Lake, the casual Kith & Kin Cafe, a playground, lakeside picnic pavilions, an amphitheater, interpretive exhibits, and guided ranger programs.
Location: 7525 W. County Highway 30A, Santa Rosa Beach, Florida.
Unforgettable Beach Experiences on the Emerald Coast
There's nothing quite like loading up the car and taking off for a day of sand and sun. These are our favorite local destinations for beach activities. Do you know of other must-see hot spots for coastal excitement? Contact our team at Allen Turner Chevrolet and let us know. We love sharing the best recommendations for the area with our customers when they head off the lot to look for adventure in their new vehicles.
Image of wooden fence towards the ocean by Joshua Patterson is licensed with Unsplash License