2024 Corvette E-Ray: Trim Levels, Specs, Tech and More
Nothing says "fast" quite like the 2024 Corvette E-Ray. With dagger-like angles and an imposing, sleek stance, the latest E-Ray is unmistakably fierce. Revamped over 70 years and eight generations, the Corvette has long been a staple in the world of sports cars. The Corvette's latest version doesn't disappoint, as it introduces the first electrified all-wheel-drive (AWD) model to its lineage, proudly cementing itself in Chevrolet's portfolio as the fastest Corvette ever produced.
If you're looking for a sophisticated vehicle that's thrilling to drive, continue reading as our team at Allen Turner Chevrolet in Crestview, Florida, takes a closer look at the 2024 Corvette E-Ray, from its trim level options to its interior and exterior design and legendary performance capabilities.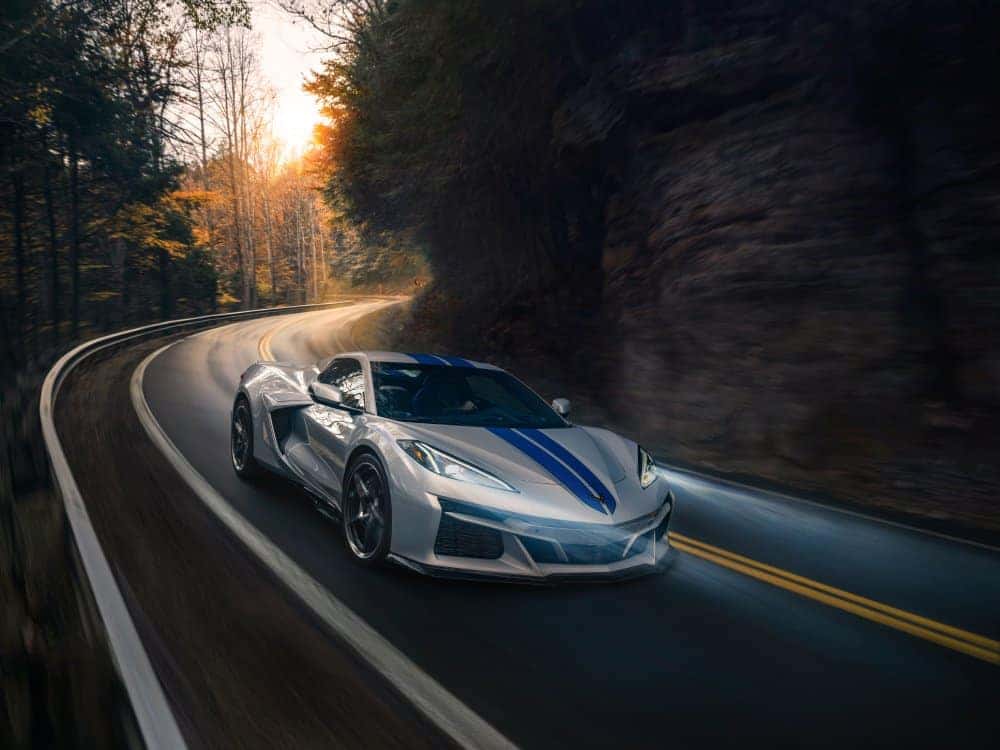 2024 Corvette E-Ray Trim Levels
The 2024 Corvette E-Ray is available as a coupe or a convertible, each with three trim levels, for a total of six different trim options: the 1LZ, 2LZ, and 3LZ Coupe and the 1LZ, 2LZ, and 3LZ Convertible. Each trim level is the same between the body styles aside from the roofs, offering a removable top panel on the coupe and a retractable top on the convertible.
The standard 1LZ trim includes features such as carbon ceramic brakes, Magnetic Selective Ride Control, a head-up display, a leather-wrapped steering wheel, and a rear camera mirror. Higher trim levels offer advanced features, including a 14-speaker Bose audio system, a performance data recorder, heated and ventilated nappa leather seats, HD front and rear cameras, and wireless device charging. You can also add a ZER performance package that enhances various performance elements, including high-performance tires and chassis tuning.
2024 Corvette E-Ray Power and Performance Capabilities
The 2024 Corvette E-Ray marks the first hybrid AWD vehicle in the Corvette lineup. It stakes its claim as the fastest Corvette ever, with the ability to reach 60 mph in just 2.5 seconds and a quarter mile in 10.5 seconds, and it has a top speed of more than 180 mph. With the addition of its self-charging 1.9 kWh lithium-ion battery, it chops a half second off its previous zero to 60 time. The platform also features e-AWD assist, which provides optimal handling by automatically adjusting the axles in real-time.
How does the E-Ray achieve such mind-boggling stats? It's all thanks to its hybrid drivetrain, an electrified AWD system built for power and speed above all else. It features an LT2 6.2-liter V-8 engine that pairs with an eight-speed automatic transmission. It produces up to 495 hp and 470 lb-ft of torque, while the electric motor produces 160 hp and 125 lb-ft of torque, for a combined total of as much as 655 hp. And in stealth mode, the E-Ray can drive silently on battery power alone for three to four miles at speeds slower than 45 mph.
2024 Corvette E-Ray Exterior Design
If it isn't speeding past in a blur, the sculpted exterior design of the E-Ray is an attention-grabber. Its silhouette is sharp and aerodynamic, with dagger-like contours reminiscent of a shark. Put simply, it has a distinctly aggressive presence. The sports car is available in a wide range of colors, from the bright Accelerate Yellow and Torch Red shades to the more sleek and modern Cacti green and Hypersonic Gray shades. You can also customize your E-Ray with racing or stinger stripes, graphics, and other exterior accents.
2024 Corvette E-Ray Interior Design
Inside, Chevrolet oriented the E-Ray's cabin with you as the driver in mind. Creating what feels like a command center, the screens and buttons are all angled toward you for easy access. The squared steering wheel references racecar designs, and the interior color palette is just as customizable as the exterior, with options ranging from jet black and natural beige to the vibrant Adrenaline Red and Two-Tone Blue shades. The seatbelt colors are also customizable, available in yellow, orange, blue, red, natural, and black shades.
In higher trim levels, the interior materials consist of GT2 seats with nappa leather and carbon fiber trim, custom leather-wrapped door panels and interior, suede microfiber-wrapped upper trim, and carbon fiber steering wheel trim and paddles.
2024 Corvette E-Ray Technology, Infotainment, and Driver Assistance Features
The 2024 E-Ray has plenty of advanced features that make cruising around Crestview a breeze. An 8-inch infotainment touch-screen display is standard, as is a 12-inch digital instrument cluster. A performance app built into the infotainment system shows live stats, such as engine output and horsepower production. The E-Ray also has Apple CarPlay and Android Auto connectivity. You can also add a performance data recorder to improve your driving skills and a premium 14-speaker Bose Performance Series audio system in higher trim levels.
Chevrolet's basic driver assistance features, including lane-keep assist with lane departure warning, forward collision alert, and a following distance indicator, are also standard, with an available blind-spot monitor and rear cross-traffic alerts.
Prioritizing the Customer Experience With Allen Turner Chevrolet
If a 2024 Corvette E-Ray has piqued your interest, our team at Allen Turner Chevrolet would love to introduce you to the popular sports car and help you through our top-notch purchase process. As always, we prioritize your experience, and our expert team members are here to guide you from the moment you walk through our door and throughout the lifetime of your ownership. You can easily apply for financing online and access our free payment calculator to help determine what plan you can afford.
Experience the Fastest Corvette Ever Made
If you'd like to hop behind the wheel of an E-Ray for a personal test drive, don't hesitate to stop by our dealership here in Crestview, Florida, to experience the power of the fastest Corvette ever made. Feel free to explore the rest of our brand-new inventory as well, whether you're interested in our Corvettes or beyond. If you have any questions, feel free to reach out to us at 850-409-8808 or via our website, and one of our friendly team members will get back to you with assistance. We look forward to serving you.
photo courtesy of Chevrolet.ca