Extreme Chevrolet Trucks


Allen Turner Chevrolet has recently made a name for itself as a purveyor of some of the most extreme trucks in the area, including the Chevrolet Altitude, the Altitude 2, and the Alpine. Featured in a host of recent country music videos, including Florida Georgia Line's "Round here" and "Cruise (Remix) ft. Nelly," the new Chevrolet trucks are so extreme that one was also personally delivered to country superstar Jason Aldean. But what makes the new Chevrolet Extreme Trucks so popular with country music elite? Read on to find out.

Chase Elliott and Rocky Ridge Trucks
Chase Elliott at the 47th Annual Moonshine Festival in Dawsonville Georgia
"Rocky Ridge has been a big supporter of ours for a couple of years now, and I am excited and looking forward to them expanding their relationship to come on board with JR Motorsports and our Nationwide Series program, they provide an incredible service with truck conversions, and I know there are many NASCAR fans that will want to see what these guys can do. It's impressive. I love what they did for my truck."
— Chase Elliott
THE ALTITUDE
Hulking, muscular, and as tough as they come, the new Chevrolet Altitude offers drivers a mammoth of a drivetrain, fitted out with a herculean engine that churns out massive rates of horsepower. But that's just the beginning: it also offers drivers a host of customization options, including wheel and tire packages, a suspension lift kit, and a spectrum of exterior additions like fender flares and color keyed bow ties.
THE ALTITUDE 2
But if you're still not satisfied, then you might want to try the Altitude 2, which takes the original Altitude and raises it to the next power. Boasting a mighty exterior characterized by awesome durability and powerful off-roading devices, the Altitude 2 also gives drivers unrivaled horsepower and a wide range of sophisticated technologies and audio options.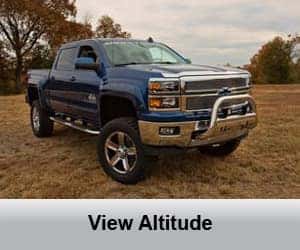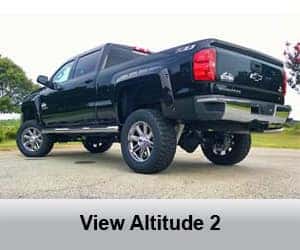 THE ALPINE
Strikingly stylish and impressively forceful, the Alpine merges power, toughness, and high performance with interior comfort and a wide range of smart technologies to keep you connected, informed, and entertained throughout your next trip. Plus, it features a four inch lift as well as Pro Runner aluminum shocks improve its capability, while its full coil-over-spring suspension makes operating in the most rugged terrain smooth as can be.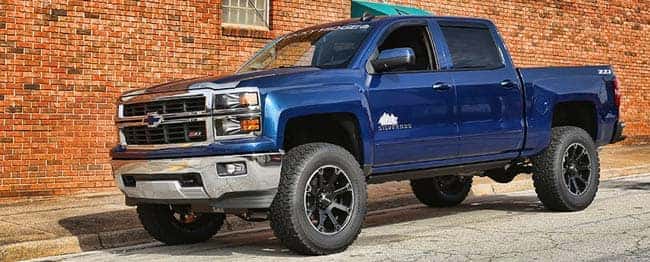 TEST DRIVE AN EXTREME TRUCK TODAY!
Here's the thing: you don't even have to trust our word on this. Just stop by our Allen Turner dealership yourself, and we'll get you out on the road in one of these extreme trucks so that you can explore the power and the fortitude of the Altitude and the Alpine for yourself. Located at 4150 South Ferdon Boulevard in Crestview, we can also be reached by phone at (850) 398-4105. So don't wait any longer: learn the meaning of extreme trucking at Allen Turner!